Regular price
Sale price
$92.99 USD
Unit price
per
Sale
Sold out
Item ID: EV21897
Details
Product description
Ultimate screwdriver set with rack ensures you'll always have the tool you need within reach.
Different sizes of screwdrivers and bits are designed for multiple purposes and many projects.
Your favorite handy-person will enjoy having a wealth of screwdrivers, bits, nuts and more right at their fingertips.
Made from premium chrome-vanadium steel, these bits are very study, of high hardness and long durability.
Ergonomic designed plastic screwdriver handle is comfortable to grip when extra torsion is needed.
All parts are well packed in a blow moulded storage case with stand facility for easy storage and transportation.
Ideal for mechanics, engineers, DIY and garages use.
Specification:
Condition: 100% Brand New
Material: ABS Plastic + Chrome-Vanadium Steel
Color: As Picture Shown
Package Weight: Approx. 2967g/6.5lb
Slotted Screwdriver Size: 3/32, 1/8*50mm, 3*75, 4*100, 5*75, 5*100, 6*100, 6*150, 8*150
Slotted Bits Size: 1/8, 9/64, 5/32, 11/64, 3/16, 7/32, 1/4, 17/64, 9/32, 5/16
Cross Bits Size: PH00, PH0*50mm, PH1, PH2, PH2, PH3, PH0*75, PH1*75, PH1*100, PH1*150, PH2*100, PH2*150
T-shaped Screwdriver Size: T6, T7, T8, T10*50mm, T10*75, T20*75, T25*100, T30*100
T-shaped Bits Size: T6 T8 10 15 20 25 27 30 35 40
Z-shaped Screwdriver: PH1-5 PH2-6
Torx Bits Size: PZ0 PZ1 PZ2 PZ3
Torx Screwdriver Size: PZ0*75, PZ1*75, PZ2*100
Hex Bits Size: 1/16, 3/32, 7/64, 1/8, 9/64, 5/32, 3/16, 7/32, 1/4, 5/16 H2, H2.5, H3, H4, H5, H6
Nut Driver Size: 1/4 9/32 5/16 11/32 3/8 7/16
Square Size: S0, S1, S2, S3, S0*75, S1*75, S2*100
Package list:
8 * Precision Screwdrivers
2 * Z-shaped Screwdriver
1 * Ratchet Screwdriver
60 * Bits
6 * Nut Driver
23 * Screwdrivers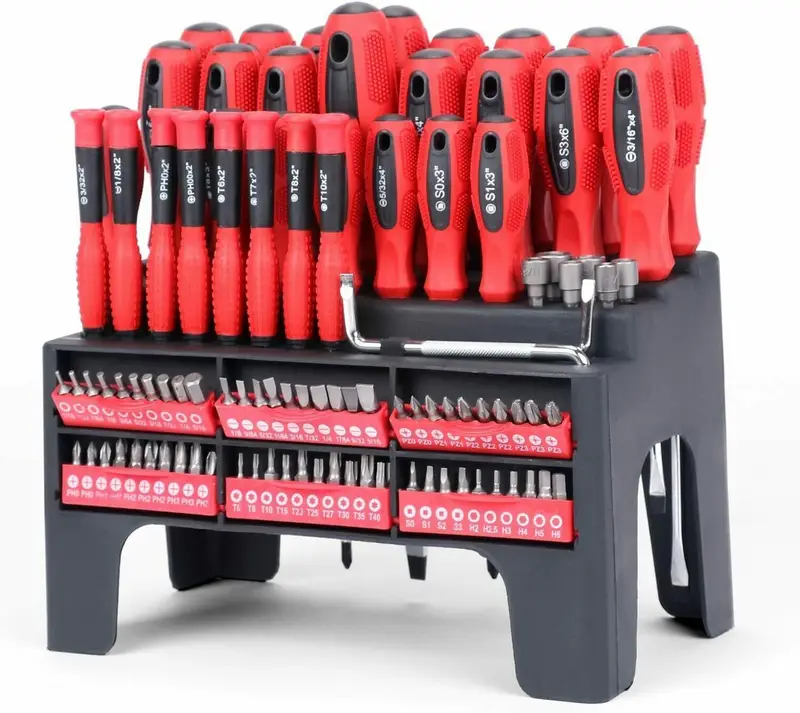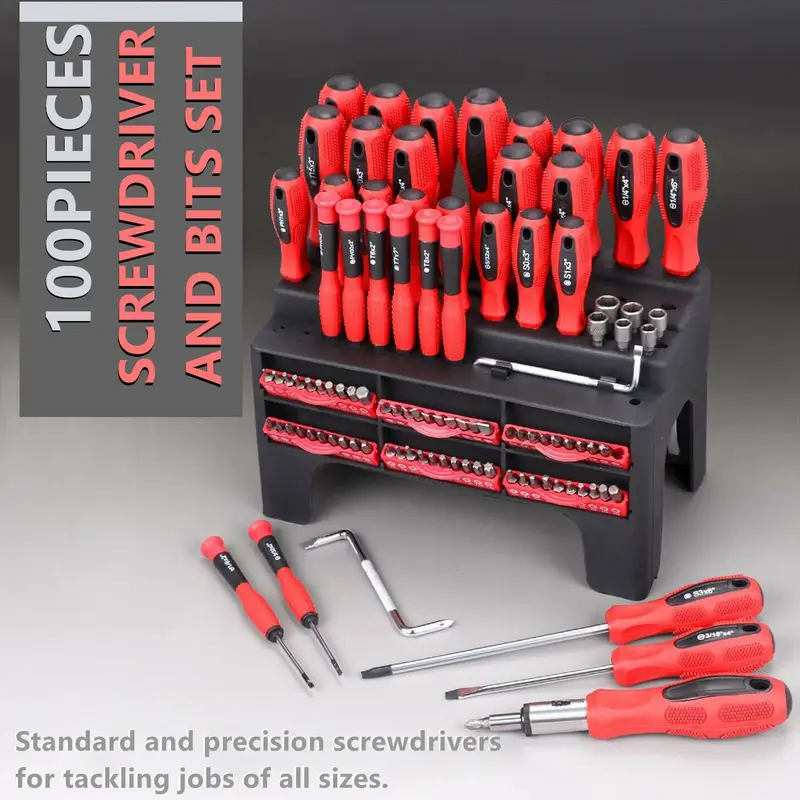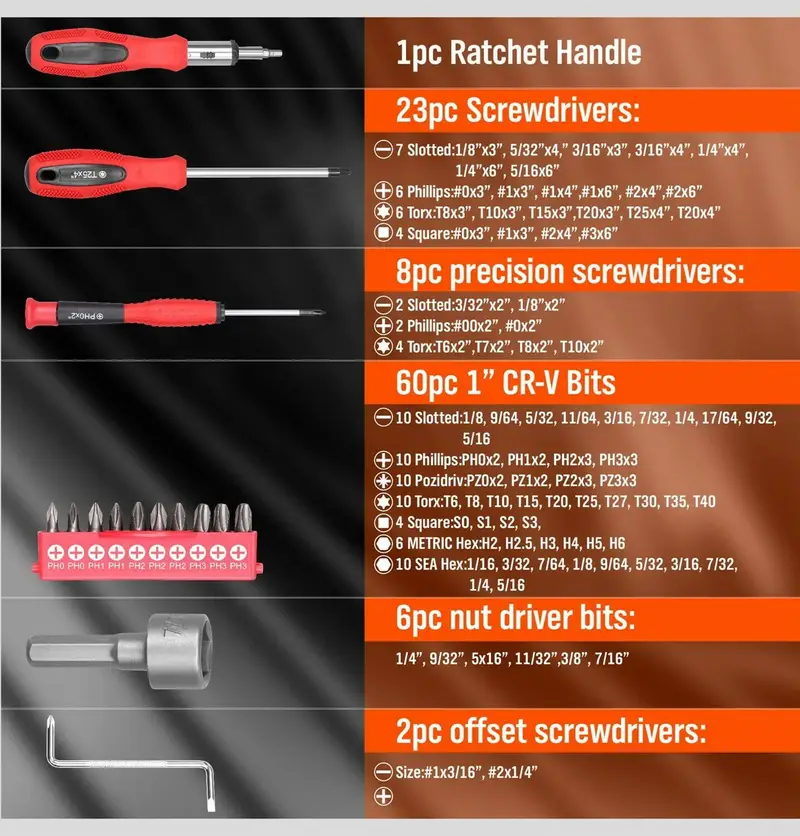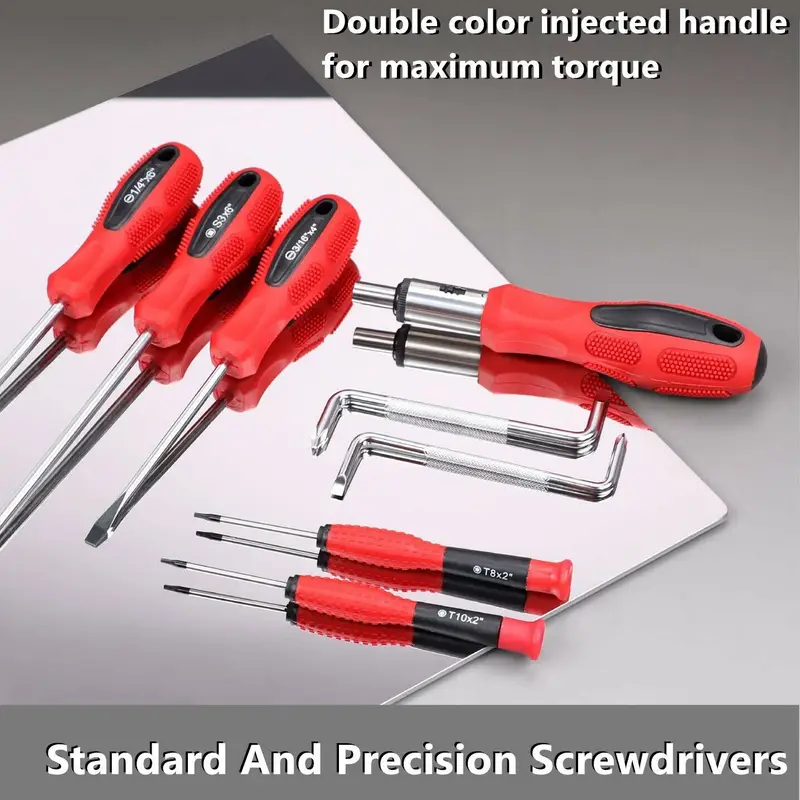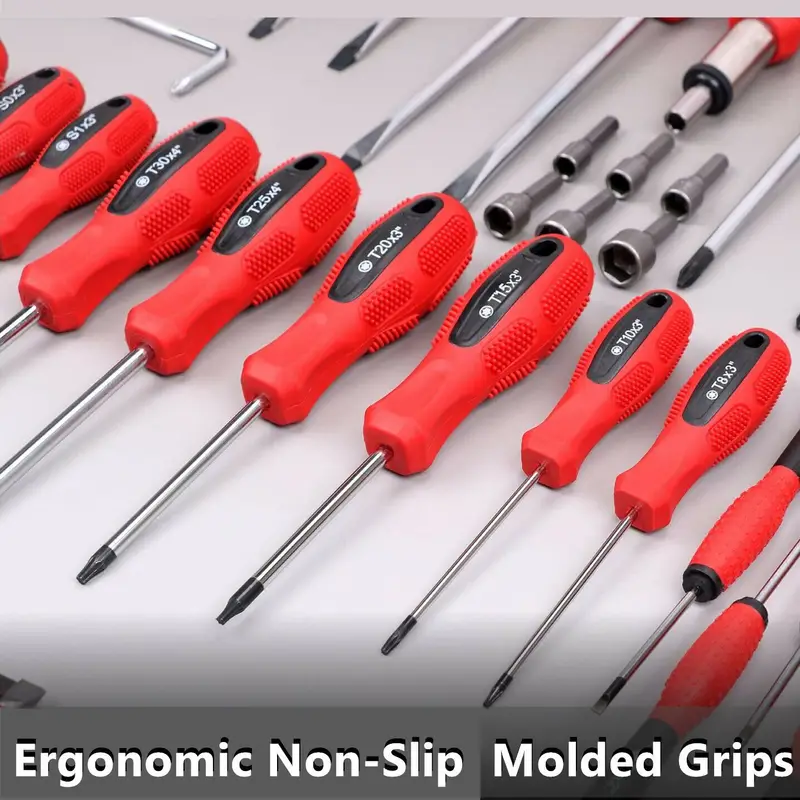 Share
View full details